After blogging for almost 4 years, there are days when I simply can't think of a thing to say. For that reason, I love to participate in link ups. You may also see them referred to as memes (pronounced like dream) or blog carnivals. They all follow a similar set up- some being hosted weekly, others are monthly and some revolve around a particular season.
There is a host, who provides the theme or basic thought of the link up. There's a spot to leave the link to your post, and finally, most link ups have a 'button' that you copy and paste, to help spread the word. Confused yet? I'll give you examples of some of my favorites, so that it makes better sense.
Ever have your head full of ideas, but not big enough for a blog post? Wrap them all up on Fridays and link up to Conversion Diary.
As mothers, we do so much that goes unnoticed in our day to day lives. Over at Faith and Family Live, we're reminded to talk about three Small Successes each Thursday. Toot your own horn, and remember that small successes really add up!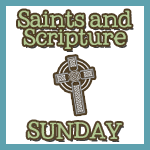 3. Saints and Scripture Sundays
I love my Catholic Church, but my knowledge can be limited. I decided to start Saints and Scripture Sunday as a way to learn more about my faith, share it with the world and learn from others as well.
Each Sunday, I'll share a favorite Scripture, and a favorite Saint or snippet about the Catholic Church. New participants are always welcome – I'd love to have you drop by and share your thoughts!
I've seen this on a lot of the blogs that I follow, and I love the quiet reminder to take heed of the simple beauty that surrounds us. Each Tuesday, participants publish their journal pages, with a few simple writing prompts and a 'picture thought' for the day.
5. Sunday Snippets – A Catholic Carnival
Want to highlight your best Catholic post of the week? Head over to This, That and the Other Thing to share your favorites with other Catholic women.
6. First Friday Link-Up
Do you love making crafts and goodies that celebrate our faith?  Be sure and stop by Catholic Icing for each month's First Friday linkup to share your creations!
As a woman who burns the candle at both ends, this weekly link up is a beautiful, gentle reminder to take time just to "be". Go over and check out Colleen at Thoughts on Grace today.
Head across the border to visit Monica in Canada. She's a busy lady, with I Blog Jesus, Equipping Catholic Families, and Arma Dei. She hosts a linkup for us to share our favorite Catholic prayers with others.
Join Elizabeth Ester as she hosts her linkup. On the first Saturday of the month, she invites readers to share their favorite post from the previous four weeks.
Gae, over at Cherished Hearts at Home, hosts a weekly linkup called Hearts for Home. She's dedicated to encouraging herself and other women to be committed at home, in their roles as wives and mothers. She challenges us to think of four to six things each week to guide our prayers, thoughts and actions toward keeping our 'Hearts at Home'.
I've only scratched the surface with all of the memes, blog carnivals and linkups that I find relevant for Catholic mothers. Are there other favorites that I'm missing? Be sure and let me know what you think in the comments.
This post is linked up to Top Ten Tuesdays and Works for Me Wednesdays.
Head over and congratulate Dianna on completing her first half marathon! While you're there, be sure and bookmark Saints and Scripture Sundays so you can link up. You can also find her on The Homeschool Classroom, and wasting loads of time on Twitter.